Bricqer enables you to easily pick orders from your phone, tablet or computer. In this guide, you'll find out how you can pick orders without printing them and how you can personalize the picker.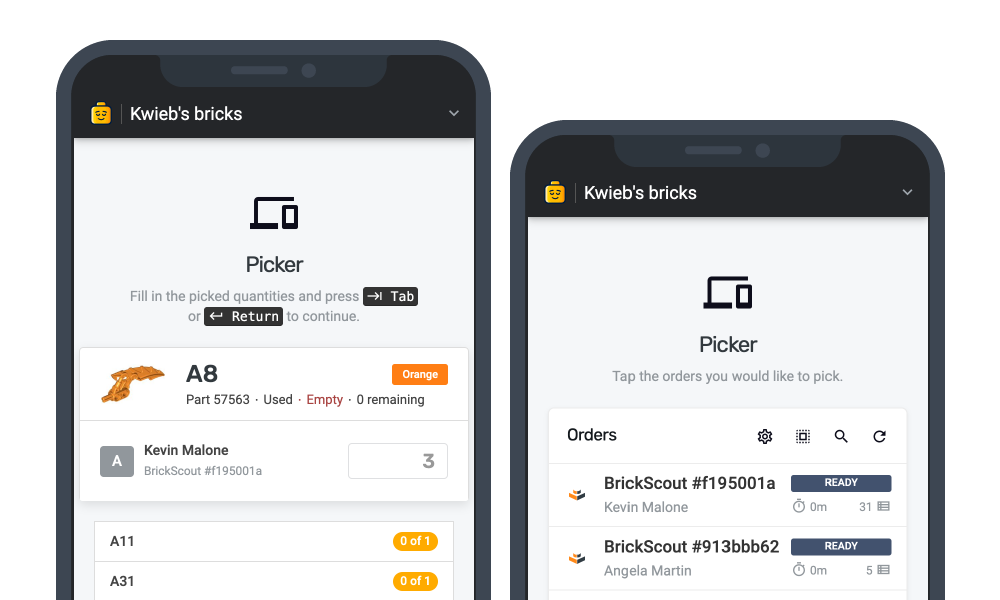 After logging in and navigating to the picker, you will see the number of orders awaiting picking. Each order is accompanied by its order number, customer name, and chosen shipping option. This screen also provides a timer, indicating the estimated time required for picking each order. You can also see the amount of unique items that need to be picked.
To begin picking orders you can now tap the order of your liking. The first order you tap will be marked "A". It is also possible to pick multiple orders simultaneously. By clicking other orders, you will notice they are also assigned letters. You can use the assigned letters to keep track of each order. For example, you could label a few physical baskets A, B, C and D, so you can easily pick up to four orders at once. In our latest update, when you select multiple orders at once, they will be assigned a unique color as well. This enables you to use color coding when picking orders.
Scrolling to the bottom, you can view the total time required to pick the selected orders, along with the total amount of lots to be picked. The system automatically calculates the most efficient picking route, optimizing the overall time required to pick all selected orders.
How we estimate pick time
Bricqer calculates picker timings based on the time it took to pick previous orders; it automatically learns. These timing indications are personal and vary between different user accounts, based on their personal picking habits. Furthermore, picker statistics can also be displayed for individual users, allowing you to gauge the time required for you or your colleagues to complete order picking.
Personalizing the picker is possible through the settings. The following options are available to you.
| | |
| --- | --- |
| Show keyboard | If you have enabled this option, Bricqer will show your keyboard while picking items. For each item you pick, you will have to confirm the exact amount you picked. If you disable this option, you can simply tap "Confirm" to automatically fill in the picked quantity. If you need to enter another amount, you can still tap "Edit" and enter the picked quantity manually. |
| Enable auto fill | If you have enabled the keyboard, you can enable this option to let Bricqer automatically fill in the picked quantities for you. This way, you will still see the keyboard, and you can make quick adjustments when needed, but you won't have to fill in the picked quantities manually every time. |
| Location filter | You have the option to select specific locations for picking, such as a particular warehouse or designated areas (A or B). This can be particularly useful when your inventory is stored across multiple physical locations. |
| Condition filter | If you prefer to distinguish between new and used items, you can also apply a filter to display only items of a particular condition during picking. |
| Time tracking | You can enable time tracking for incomplete orders. By default, this option is disabled, as this will skew the predicted pick time when you're very quickly completing lots of incomplete orders. |
| Scale interface | Enable this option to automatically scale the interface text size based on the size of your screen. |
How your settings get saved
When you save your settings, they are saved to your local device. This ensures that when you start another picker session in the future, your personal preferences will automatically be applied again.
Once all the items are picked, complete orders will automatically transition to the "Ready to be packed" category. For more information on this transition, please refer to the Packing and shipping guide.
Ready to get started?
Get in touch and we'll have you up and running in no-time!
Get started now