A local order is an order that you create right from within Bricqer, instead of receiving it through one of your connected a marketplaces. For example, you may want to create a local order when you receive a request via e-mail or if you want to quickly pull an item from your own inventory.
To create a local order, you will have to navigate to the orders section. Now, click on add_circleNew order to get started.
The first step is to assign a customer. You can search for an existing customer, or create a new one. If your customer is a walk-in customer, you can also press "Walk-in customer".
Next, you'll need to select a shipping method. You can choose from your existing Bricqer shipping methods. You can also specify the shipping costs, if any. Once the customer and shipping method are assigned, you can proceed with adding items to the custom order.

We currently support the following methods of adding an item to an order.
| | |
| --- | --- |
| Add from inventory | Search your inventory for specific items, and add them to the order. |
| Scan QR or EAN | You can scan a QR code or EAN barcode. Most sets, for instance, have an EAN barcode on the back. By scanning the barcode, Bricqer can automatically add the item to the order. |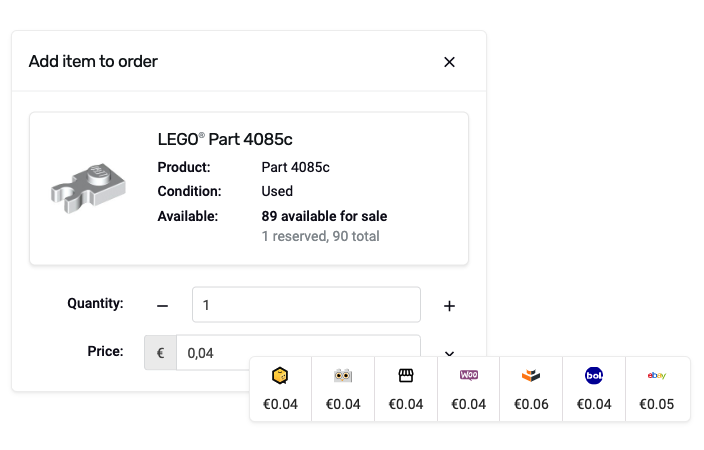 When you add an item to an order, you can change the price and quantity of the item. You can show marketplace-based pricing by clicking the arrow button. This will show you the pricing of the item based on the marketplace pricing formula you have set up.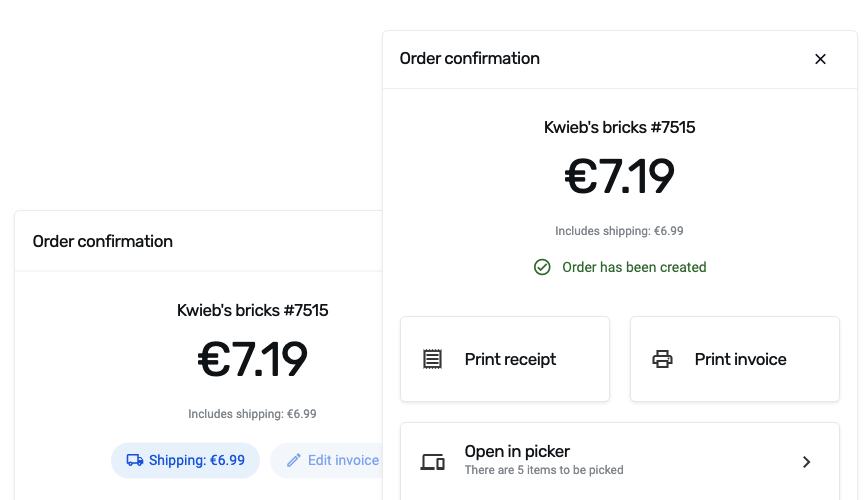 Upon clicking checkCreate order, you can specify whether the order has already been paid for, or if you'd like to request payment from the customer. Additionally, you can change the shipping costs before finalizing the order.
After creating the order, Bricqer automatically removes the corresponding inventory items from your marketplaces. You can proceed to pick the items in the picker or view the order details as needed. You also get the option to print the invoice.
If you are running a physical store, or will be selling items during, for example, a convention, you may also be interested in our Storefront feature. Storefront is our Point of Sale solution, optimized for placing multiple orders quickly.
Ready to get started?
Get in touch and we'll have you up and running in no-time!
Get started now