You can connect Bricqer to various shipping providers. Using the shipping integrations, you can automatically create and print a shipping label right from within Bricqer, helping you to speed up your shipment process. In this guide, you'll find out how to pack and ship orders; both manually and using one of our shipping integrations.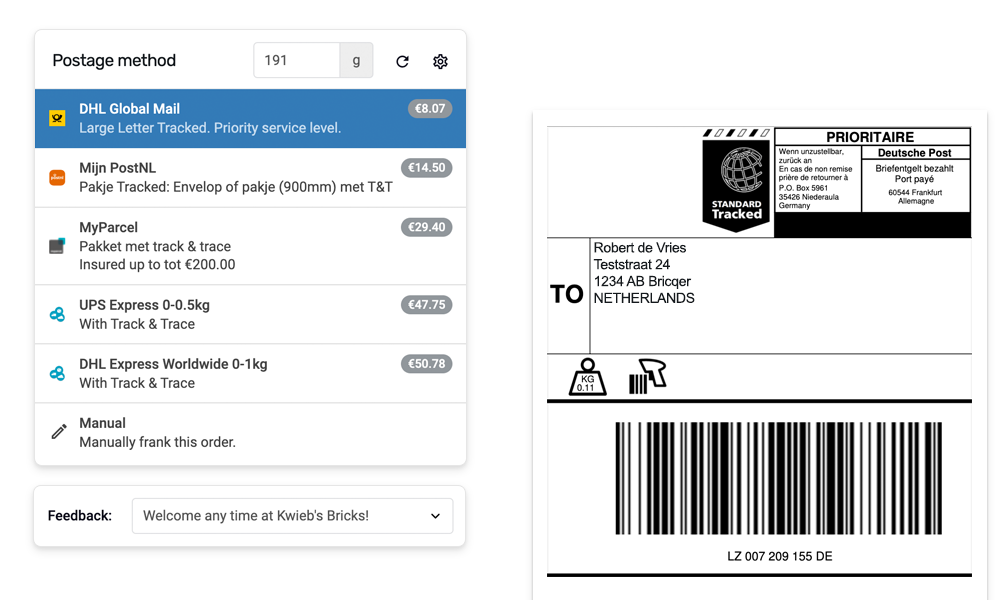 When an order has been completely picked, it will show up as "Ready to be packed". Orders that are ready to be packed will show "Pack order" as their primary workflow action. When you open the order details, you can confirm that all items have been picked as they will show up in green.
Simply click shopping_basketPack to initiate the packing process. For most orders, the customer's name and address will automatically be verified, and you will only have to select the appropriate shipping method.
After you have selected the appropriate shipping method, Bricqer will do the following:
Request and print the shipping label;
Send the customer an e-mail informing them that their order has been shipped. Additionally, if there's track and trace information available, this will also be sent;
Post customer feedback to the marketplace;
Save your shipping costs to the order (this information is only visible to you as a seller);
File the order.
Within just a couple of seconds, you can get a complete order shipped and out the door!
For completeness, the packing process is further explained below.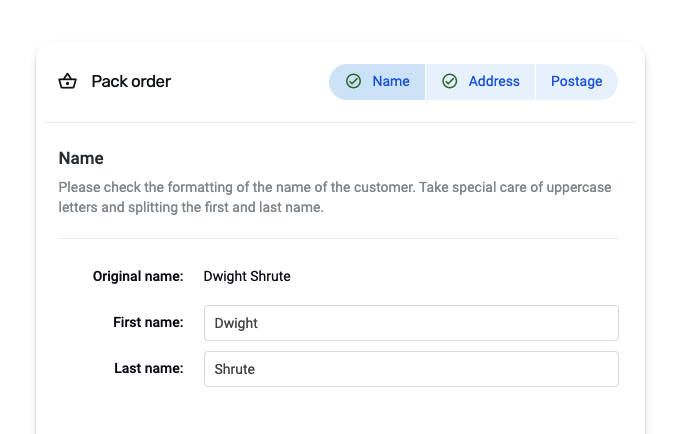 For most orders, the customer's name can be checked and validated automatically. If Bricqer is not sure about the formatting of the customer's name, you'll get the option to edit or confirm the current name.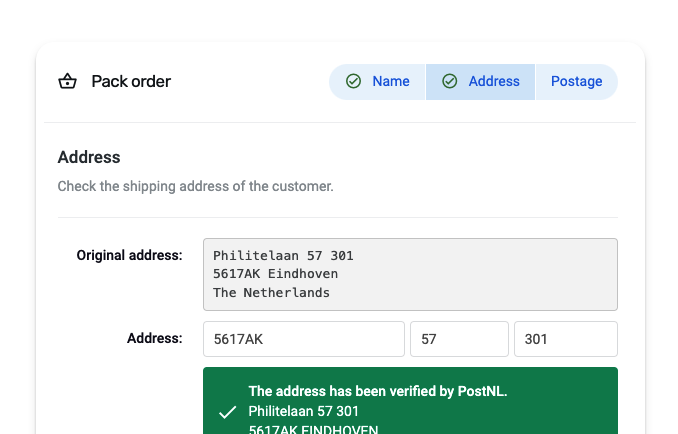 Bricqer will check and validate the customer's address with a postal provider address validation service. If the address cannot be validated automatically, for example, because it cannot be found or because we're not sure the address is correct, Bricqer will require you to check and validate the address manually.
Automatic address validation will speed up your packing process tremendously, while at the same time ensuring your packages will be delivered at the correct address.
Dutch addresses require less information
For Dutch addresses, you will only have to check the postal code and house number.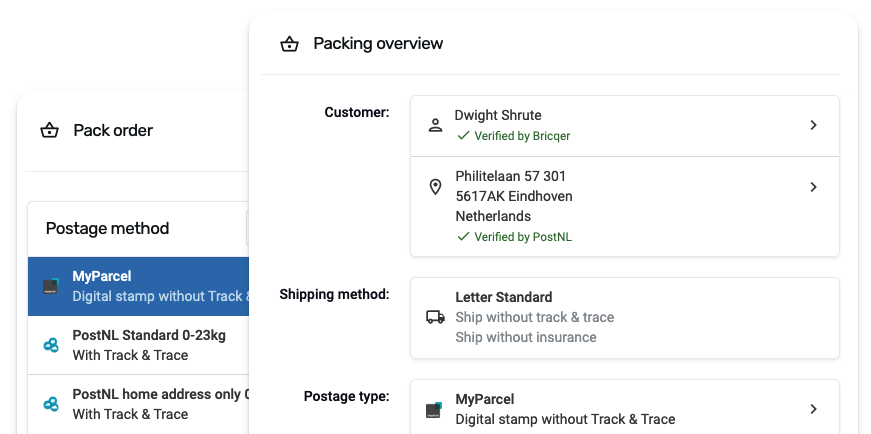 When the name and address of the customer have been verified, you will be presented with a list of shipping methods that you have connected to Bricqer. Based on order characteristics, Bricqer will automatically filter out shipping methods with or without Track & Trace and insurance.
The name of the shipping provider and a short description are shown, along with the price for requesting a shipping label. This way, you can easily determine which shipping method is most economical for the order.
Supported carriers
The following carrier integrations are built-in to Bricqer, enabling you to request and print a shipping label right from within Bricqer.
ShipStation
PostNL
MyParcel
Deutsche Post
DHL Global Mail
DHL Parcel
Lots of other carriers are supported through our SendCloud integration.
If you want to manually ship an order, you can select editManual in the shipping method selection screen. Bricqer will simply transition the order from "Ready to be packed" into the "Ready to be shipped" category. You can then request and print a shipping label manually.
When you've manually shipped the order, you can click local_shippingMark as shipped in Bricqer to mark the order as shipped.
When you ship an order, the customer will automatically receive an e-mail informing them that their orders has been shipped.
You can preview and change the contents of this e-mail by going into settingsSettings, selecting "Orders" and clicking the "Order shipped" notification template.
After packing and shipping an order, the order is automatically filed. You can still request the order, even if it's older than 6 months, by going into the order archive. Additionally, you can use the search function at the top of the screen to search for an existing order.
Ready to get started?
Get in touch and we'll have you up and running in no-time!
Get started now