Most store-owners start by manually making carrier requests when preparing shipments. However, as your LEGO® store expands, things can get quite messy. Especially when you're using multiple carriers, and you're putting all your order details in their respective systems. With our shipping carrier integrations we'll fix that.
By fully automating your shipping process with all major shipping carriers we allow you to keep your delivery promise every time - without having to worry about it.
Carrier integration is a bit of a vague concept. We know. So, what does it look like? Well, when processing your orders in Bricqer you can easily pick your favorite carrier from a list of all available shipping options and request a shipment directly. We'll automatically validate shipping addresses and send corresponding track & trace information to your customers when the time comes. All with just a few clicks.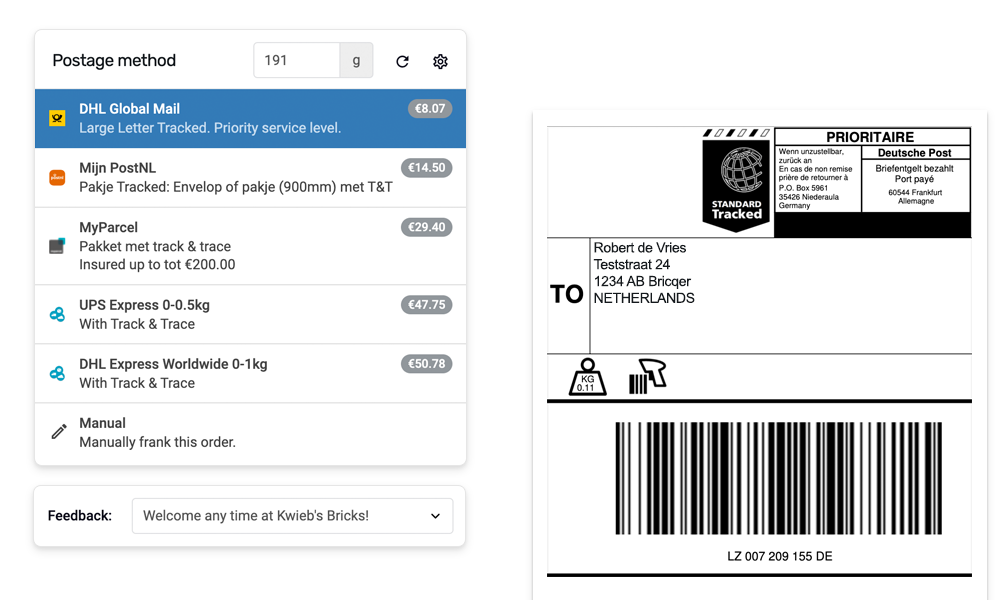 Just print a label, and you're ready to go.
With our shipping carrier integration you'll take your online LEGO® store to the next level.
Saving time & costs Automating the shipping process saves a considerable amount of time and costs in comparison with manually putting in all data. By reducing your efforts, you'll have more time to spend where it matters most.
Accurate shipping People make mistakes. Our software doesn't. This means more accurate shipments and less shipping errors, so you don't have to deal with failed deliveries and returns anymore. Or customer complaints for that matter.
Happy customers Nowadays people expect short delivery times. By automating the shipping process you'll work as fast as possible and ship every order on time. Your customers don't have to wait long for their parts - and that puts a guaranteed smile on their face.
Ready to get started?
Get in touch and we'll have you up and running in no-time!
Get started now